Magnetostrictive level gauges
Magnetostrictive level probes base their operation on the principle known as the Wiedemann effect and allow a constant and extremely precise reading of the level of liquids.
---
XMT series
The XMT level probe is made up of a microprocessor electronic circuit placed in the head of an aluminum casing and a stainless-steel measuring rod containing a waveguide introduced inside the tank.
A high frequency electrical pulse is sent through the electronic device. At the exact meeting point with the magnetic field generated by the permanent magnet contained in the float, a mechanical impulse is generated by the magnetostrictive torsional deformation.
The mechanical impulse propagates in the waveguide at the speed of sound to the sensor positioned in the measuring head. The measurement of the time between the sending of the initial impulse and the return one defines exactly the position of the floats.
---
Main features 
Fluid
Diesel, petrole, propane (GPL), water
Accuracy
Depends on the type of float
Resolution
± 0,5 mm probe with serie output
Repetability
0,1 mm
Power supply
± 0,1 mm probe with serie output
Absorption
9-30 VCC
Temperature accuracy
<50 mA
Temperature gauging range
± 0,5 °C
Ambiant temperature
-20 °C to + 60 °C
EX explosion-proof execution INERIS.
Display: Console to monitor the alarm of the tanks and the level gauge. 1 probe bus management, 4 relays on the bus with programmable outputs and events.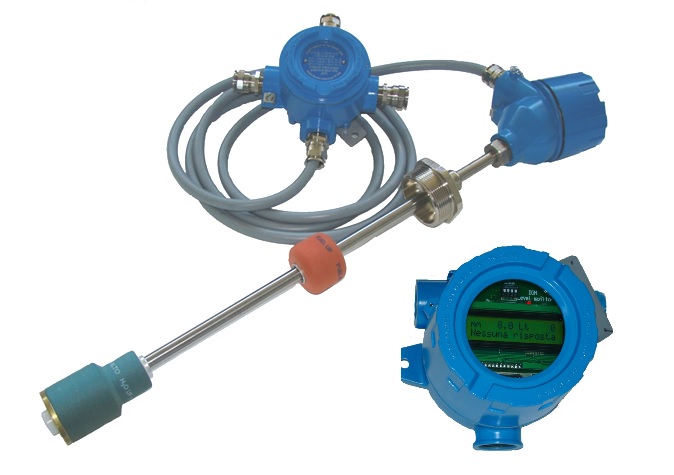 ---
Related documents
---
Product categories
This product is present in the following categories: